home / resultats

The Drakkar ship with a dtr from Baviere

2 dtrs of Baviere in front of the barn of Drakkar Holsteins

Topseller and Sale crew of the Vente Drakkar 2012

Heifer barn with the sale heifers of the Vente Drakkar 2012

Vente Drakkar 2012

Transport truck of Diamond Genetics France

















































































The sale will be at the farm of DRAKKAR HOLSTEINS. Here some impression and pictures of Drakkar Holsteins and pictures of the previous Vente Drakkar editions.
The Drakkar ship with a dtr from Baviere

2 dtrs of Baviere in front of the barn of Drakkar Holsteins


Topseller and Sale crew of the Vente Drakkar 2012


Heifer barn with the sale heifers of the Vente Drakkar 2012


Vente Drakkar 2012

Transport truck of Diamond Genetics France


RESULTATS

Quelques exemples d'animaux qui ont été vendu ou acheté par Drakkar Holsteins.

Visiter www.eurogenes.com/drakkar pour plus d'informations sur ces animaux.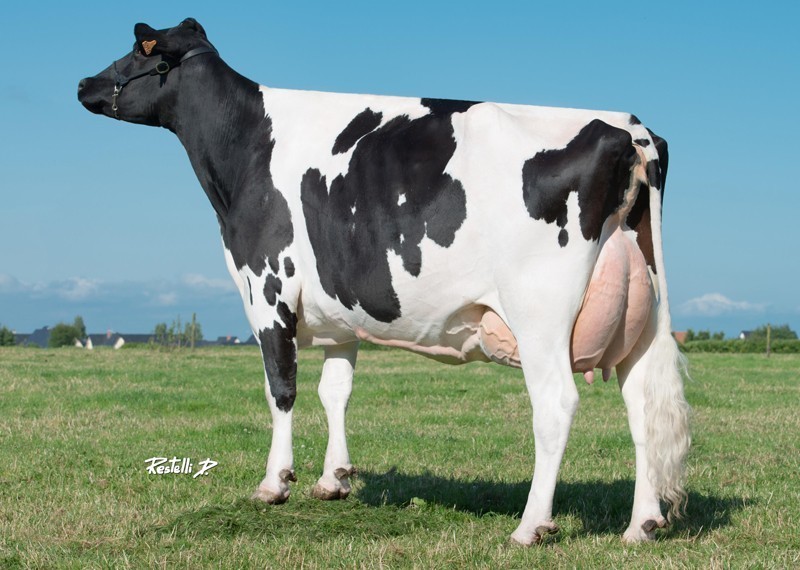 Baviere VG-87-FR EX-MS

(Shottle x Jocko Besne x Rudolph x Grand x Sunnylodge Prelude Spottie VG-87-CAN)
Former #1 GTPI Cow in the World for almost a year, still the #1 GTPI Shottle in Europe
Dam to the #1 RZG Cow World Wide, the #1 RZG Bronco son, the #7 GTPI Superstition, the #1 GTPI Garrett, the #1 Palermo & more!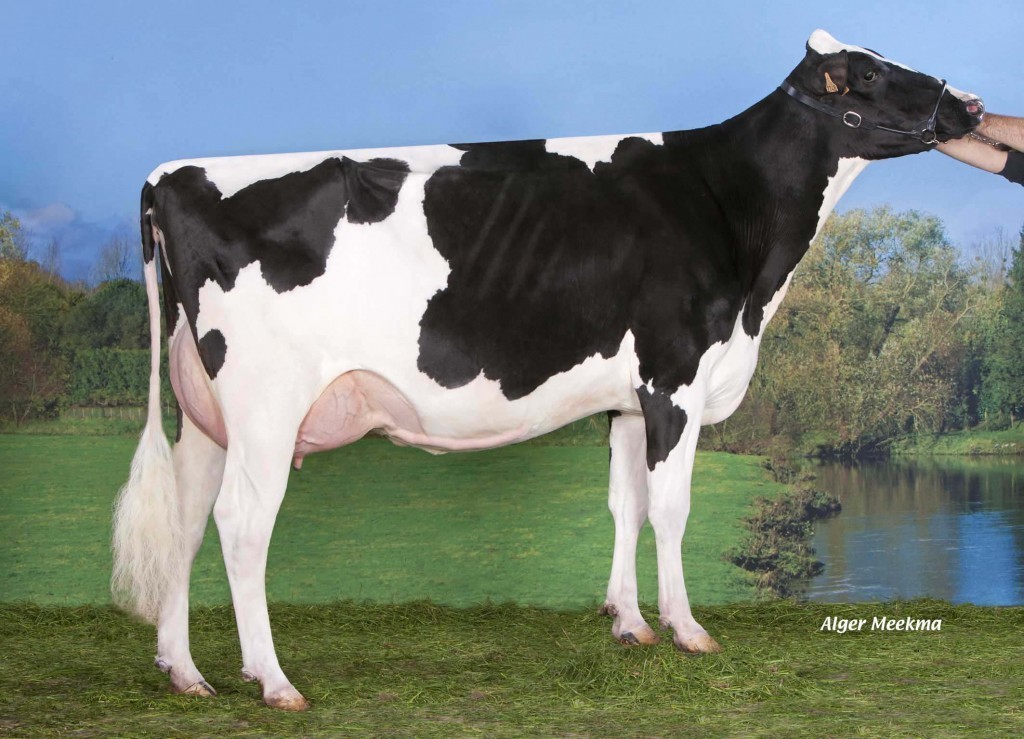 DKR Bayla GP-84-NL VG-86-MS 2yr. - (Garrett x Baviere)
The #1 RZG Cow in the World - DE 04/13 RZG 154
Dam to DKR Be One @ Semex - US 08/12 GTPI >2500



DKR PEDRO @ Ascol - (Gold Chip x Elite Pom)
The #4 GTPI Gold Chip son World Wide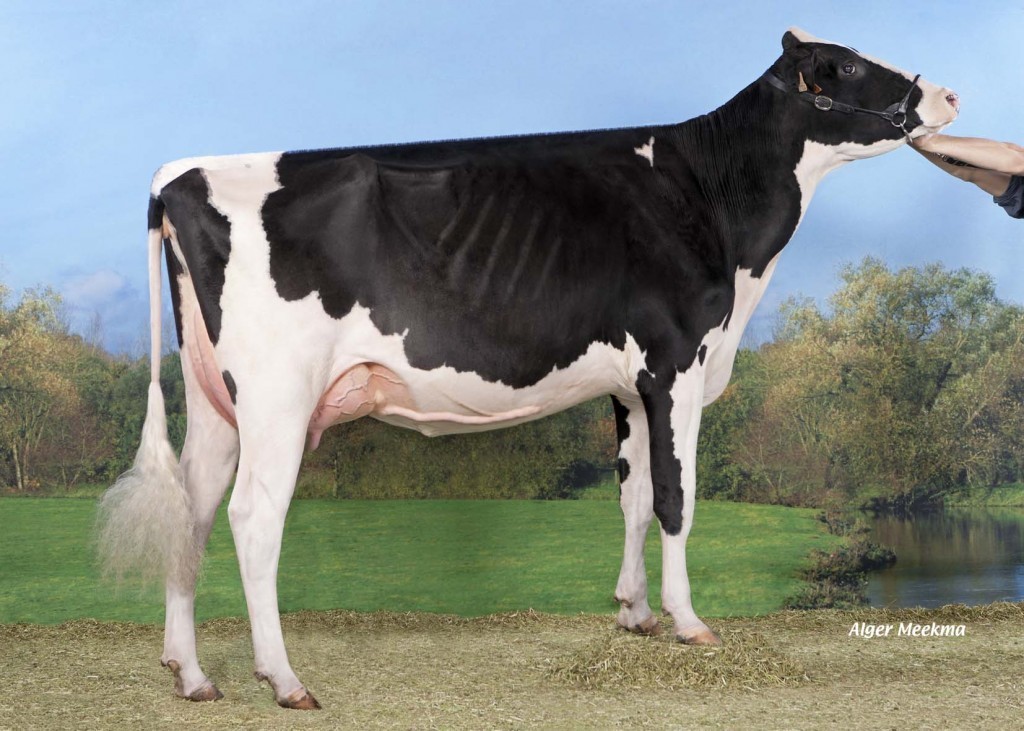 DKR Belone VG-87-FR VG-87-MS 2yr. - (Man-O-Man x Ord Bizou VG-88-FR 2yr.)
2nd Jr. Heifer at the SIMA Paris 2011
Embryos have been exported World Wide to Austrlia, USA & more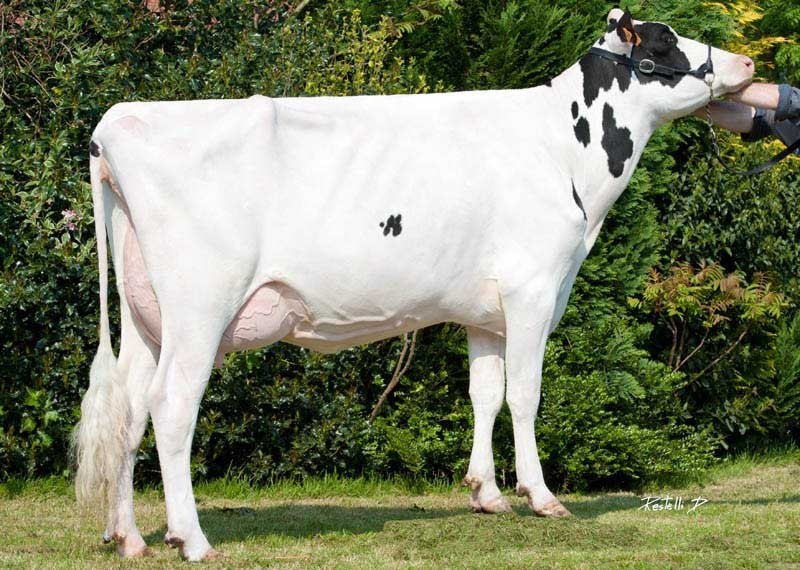 Elite Pom VG-87-FR 2yr. - (Planet x Shottle x Oman x Naurine family) -
Still Top 25 GTPI Cow in Europe (04/13)
Several sons in AI around the World, including Select Sires, USA
Owned with GAEC De La Pommiere (FR)


Calbrett Goldwyn Layla EX-95-CAN - (Goldwyn x Lylehaven Lila Z EX-95-CAN)
2nd 4-Yr. Old Royal Winter Fair Toronto (CAN) 2011
Topseller Cormdale Sale 2009 for $ 230.000



Rainyridge Super Beth *RC VG-86-CAN 2yr.
(Superstition x Rainyridge Talent Barbara EX-95-CAN)
Dam to the #1 RED CARRIER GTPI heifer in the World, Calbrett Supersire Barb *RC - GTPI +2527 (04/13)



Bossonova @ Masterrind - (Bronco x Baviere)
#1 RZG Bronco son World Wide - RZG 150 (04/13)



DKR Jakarta @ Semex - (Superstition x Baviere)
#7 GTPI & #2 RZG Superstition son World Wide
Have been used as a sire of sons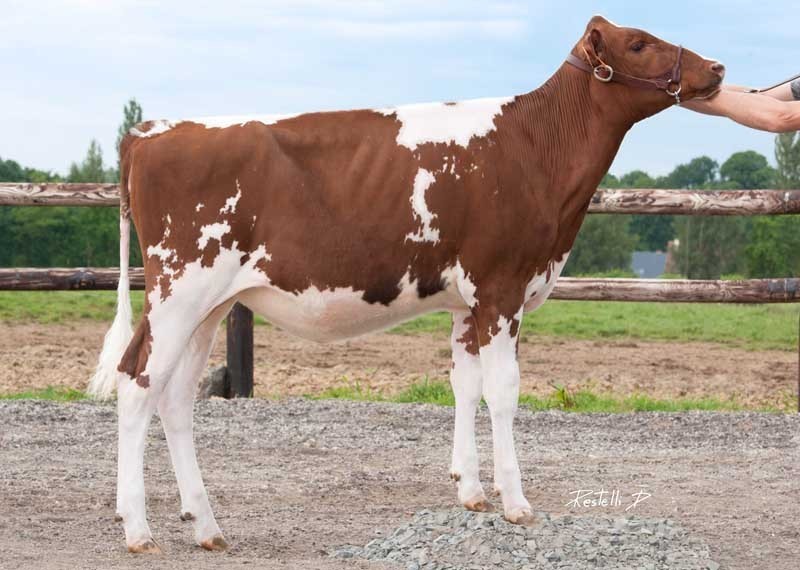 DKR Larson Sally Red
(Larson x Destined x Bolton x Gen-I-Beq GW Secret VG-87-CAN 2yr.)
Former #1 RED GTPI heifer in Europe - Still top 10 RED heifer flush age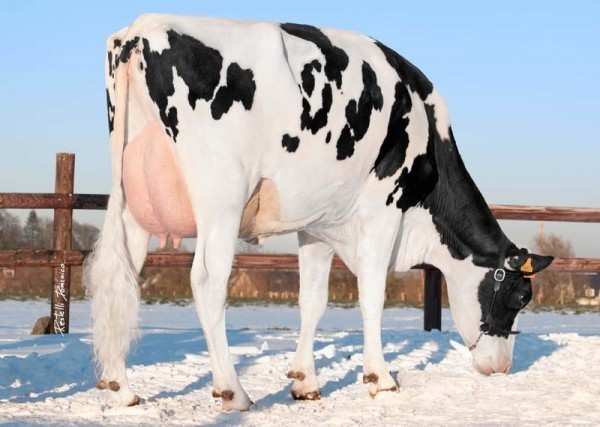 Saluden Planet Etoile *RC VG-FR VG-88-MS 2yr.
RED CARRIER Planet! Former #1 RED CARRIER cow in Europe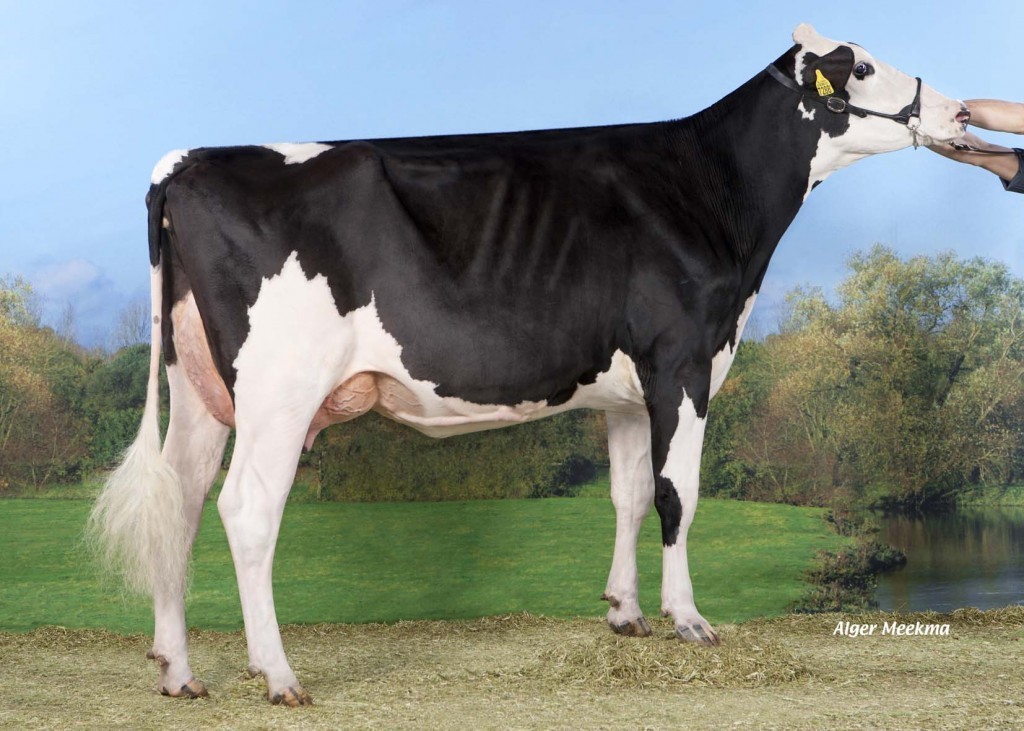 DG Sanch Carol VG-87-FR 2yr.
Sanchez x Ralma Goldwyn Carmel EX-92-USA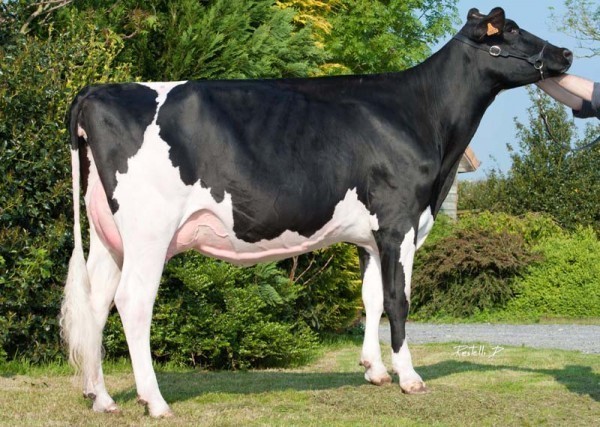 DKR Linda VG-87-FR 2yr.
Grand dtr of Savage-Leigh Licorice EX-92-USA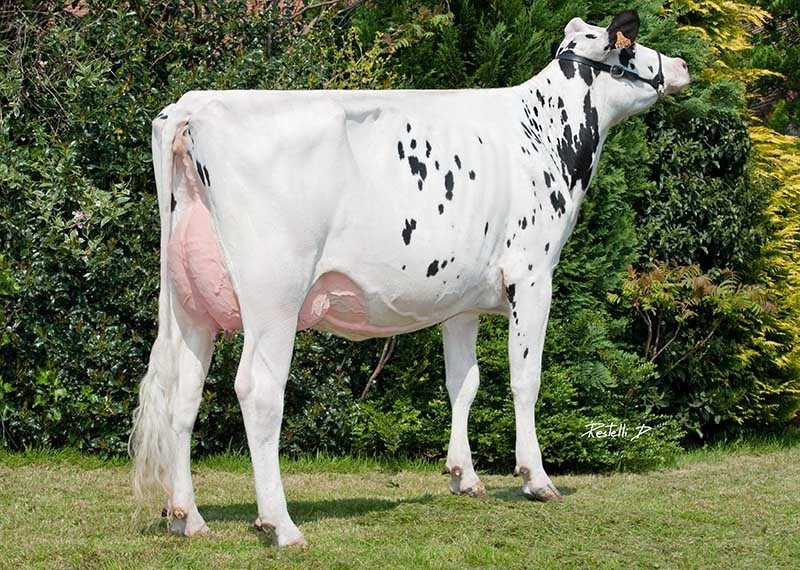 DKR Britney VG-87-FR 2yr. - (Jeeves x Ord Bizou VG-88-FR 2yr.)
One of the greatest Jeeves dtrs World Wide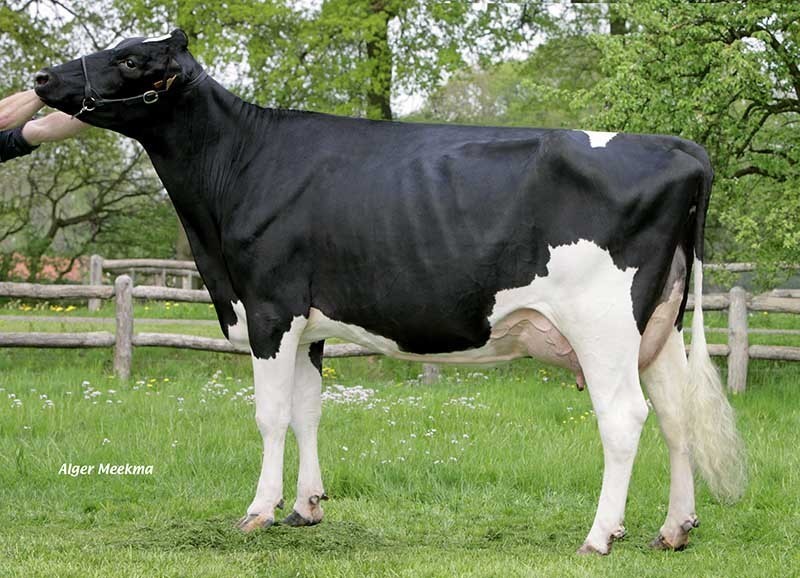 DKR SV Lexus VG-NL 2yr. (Grand dtr of Savage-Leigh LIcorice EX-92-USA)
Sold in the Sale to Bouw Holsteins - Dam to the former #1 GTPI heifer in Europe (Lizette) which sold for € 65.000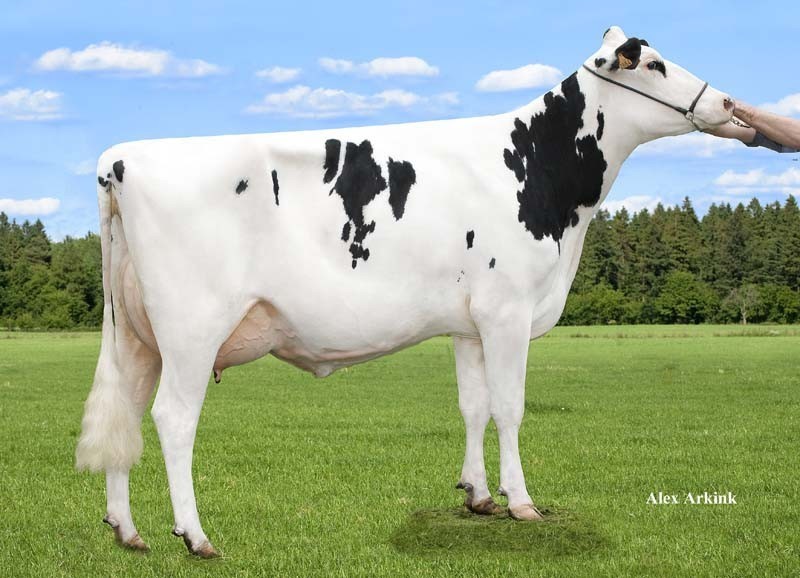 DKR Silence Secret VG-NL 2yr. (Socrates x Gen-I-Beq GW Secret)
Sold in the sale to Capnation Holsteins (NL)
Dam to a Polled dtr which sold for € 29.000 to a Canadian / European syndicate



DKR Pronto Faith VG-87-DE 2yr.
Topseller NH Sale for € 42.000